It's Belgium v England in the Nations League on Sunday and Betfred are getting in on the action! Simply place a £10.00+ pre-match bet on Belgium v England and Betfred will give us a £5.00 free bet if Harry Kane scores. Translated into matched betting terms, this gives us a potential profit of £3.55 and here's how…
Key Terms:
Minimum stake of £10.00.
Minimum odds of 1.50 (1/2).
Applies to single bets placed on Belgium v England from 17:00 on Saturday 14th November 2020 until 19:45 (kick-off) on Sunday 15th November 2020.
We'll receive a £5.00 free bet if Harry Kane scores.
Qualifying Bet:
If you'd like more information about qualifying bets and how they work, please see my Qualifying Bets Guide.
It's entirely up to you what you place your qualifying bet on. Having looked at the odds available, we could place our qualifying bet on Belgium in the Match Result market.
At the time of writing, laying our bet at Betfair gives us the smallest qualifying loss.
Betfair are currently offering new customers 0% commission up to £500 for the first 30 days.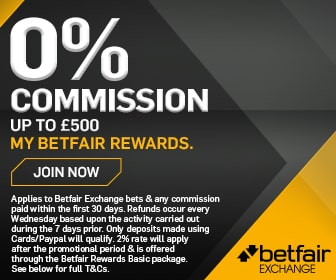 If you're an existing Betfair customer, you can opt in to pay just 2% commission by selecting their Basic reward plan.
For more information about My Betfair Rewards and how to opt in, please see my Betfair 2% Commission page.
We can calculate our lay stakes using my matched betting calculator…
As you can see, the calculator tells us that our lay stake should be £9.73…
Place £10.00 on Belgium @ 2.375 = Potential profit of £13.75

Lay £9.73 on Belgium @ 2.46 = Potential liability of £14.20
Outcomes:
Let's have a look at our potential profit/loss for the possible outcomes…
| Outcome | Bookie | Exchange | Profit/Loss |
| --- | --- | --- | --- |
| Belgium win | + £13.75 | – £14.20 | £0.45 loss |
| Belgium don't win | – £10.00 | + £9.53 | £0.47 loss |
So, regardless of the outcome, we'll lose a maximum of £0.47 in qualifying for our potential free bet.
Free Bets:
We'll receive a £5.00 free bet if Harry Kane scores anytime. Free bets will be credited by 12:00 on Monday 16th November 2020 and will be valid until 09:00 on Tuesday 17th November 2020.
Using straightforward matched betting, we should be able to convert our free bet into 80% cash, so £4.00. If we take into account our minimum qualifying loss of £0.45, this gives us a potential profit of £3.55 on this Betfred offer!
* Harry Kane failed to score and Belgium won the match 2-0, resulting in a loss of £0.45 on this Betfred offer. *
More reload offers
– Make £500+ per month
With detailed walkthroughs for all the best offers as they're released, you'll be bagging recurring profits in no time.
More reload offers