Everton and Liverpool sit atop the Premier League heading into Week 7 and you don't want to miss this Space Casino free bet offer. Place a £10.00+ pre-match bet on Liverpool v West Ham or Newcastle v Everton and if our bet loses and Liverpool and Everton both win, Space Casino will give us a £5.00 free bet. Translated into matched betting terms, this gives us a potential profit of £3.66 and here's how…
Key Terms:
Minimum stake of £10.00.
We must place a bet on Liverpool v West Ham or Newcastle v Everton before 17:30 on Saturday 31st October 2020.
Applies to any Result (win/lose/draw) or Exact Score market.
Qualifying Bet:
If you'd like more information about qualifying bets and how they work, please see my Qualifying Bets Guide.
Our free bet is triggered if our qualifying bet loses and Liverpool and Everton both win. Therefore, we need to select something that doesn't see Liverpool or Everton winning their respective matches.
Having looked at the odds available for Liverpool v West Ham, we could place our qualifying bet on a Draw in the 1X2 Full Time market.
At the time of writing, laying our bet at Betfair gives us the smallest qualifying loss.
Betfair are currently offering new customers 0% commission up to £500 for the first 30 days.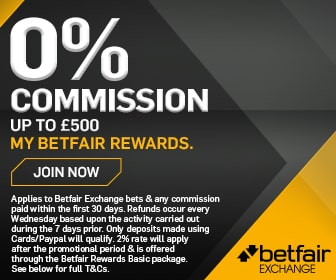 If you're an existing Betfair customer, you can opt in to pay just 2% commission by selecting their Basic reward plan.
For more information about My Betfair Rewards and how to opt in, please see my Betfair 2% Commission page.
We can calculate our lay stake using my matched betting calculator…
As you can see, the calculator tells us that our lay stake should be £9.86…
Place £10.00 on a Draw @ 5.50 = Potential profit of £45.00

Lay £9.86 on a Draw @ 5.60 = Potential liability of £45.35
Outcomes:
Let's have a look at our potential profit/loss for the possible outcomes…
| Outcome | Bookie | Exchange | Free Bet | Profit/Loss |
| --- | --- | --- | --- | --- |
| Draw | +£45.00 | -£45.35 | | £0.35 loss |
| Liverpool & Everton both win | -£10.00 | +£9.66 | +£4.00 | £3.66 profit |
| Any other outcome | -£10.00 | +£9.66 | | £0.34 loss |
So, we'll make a nice profit of £3.66 if Liverpool and Everton both win and we stand to lose a maximum of £0.35 on any other outcome. Risking £0.35 to make a profit of £3.66, gives us effective odds of 11.46. So, given that the odds are just 2.90 (19/10) for Liverpool and Everton to both win, this is a profitable offer in the long run.
If eligible, our £5.00 free bet will be credited by 15:00 on Monday 2nd November 2020 and will be valid for 30 days. Free bet stakes are not included in any returns.
If you're unsure how to convert your £5.00 free bet into £4.00 cash (80%), please see my Free Bets Guide for a walk-through of how it should be done.
* Liverpool beat West Ham 2-1 and Everton lost 2-1 to Newcastle, resulting in a loss of £0.34 on this Space Casino offer. *
More reload offers
– Make £500+ per month
With detailed walkthroughs for all the best offers as they're released, you'll be bagging recurring profits in no time.
More reload offers