It's Dortmund v Bayern Munich in the Bundesliga on Saturday and you don't want to miss this EnergyBet price boost available to ALL customers! They've enhanced Dortmund to beat Bayern Munich from 20/7 to a whopping 40/1, with the extra winnings paid out in bonus funds. Translated into matched betting terms, this gives us a guaranteed profit of £7.30 and here's how…
Key Terms:
Only new customers who sign up via the special promotional link or those who already have an account can qualify by placing their bet between 00:01 on Thursday 5th November 2020 and 17:29 on Saturday 7th November 2020.
Minimum deposit of £10.00, to be eligible for this promotion.
Deposited funds must be wagered at least once on sport before they can be withdrawn.
We must stake £1.00 on Dortmund to win at the standard odds.
If Dortmund win, the additional winnings gained from the 40/1 enhanced odds will be credited as bonus funds.
Bonus funds must be wagered 3x at odds of 1.75 (3/4) or greater.
Strategy:
This offer is a little different to regular price boosts, but the strategy is still pretty much the same.
If Dortmund win, our bet will be paid out in cash at the standard odds of 20/7 and then topped up to 40/1 in bonus funds.
So, the first thing we need to do is work out the effective odds we're getting on Dortmund, taking into account the wagering requirements on the bonus portion of our returns.
If Dortmund win, we'll receive the following…
£3.86 cash
+ £37.14 in bonus funds
= £41.00 in total
Our £37.14 would need to be wagered 3 times at odds of 1.75 (3/4) or greater.
Using straightforward matched betting, we should be able to convert our bonus funds into around 85% cash, so £31.57. For more information on wagering bonuses, please see my Bonus Rollover guide.
£3.86 cash
+ £31.57 (converted from bonus)
= £35.43 total cash
We then just need to divide our total cash by our initial stake to get our effective odds…
£35.43 (total cash) ÷ £1.00 (stake) = 35.43 (effective odds)
At the time of writing, laying our bet with Betfair gives us the biggest guaranteed profit.
Betfair are currently offering new customers 0% commission up to £500 for the first 30 days.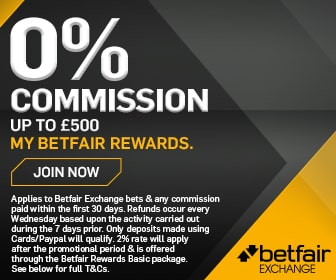 If you're an existing Betfair customer, you can opt in to pay just 2% commission by selecting their Basic reward plan.
For more information about My Betfair Rewards and how to opt in, please see my Betfair 2% Commission page.
We can calculate our lay stake using my Matched Betting Calculator. We just need to enter our effective odds of 35.43 as our 'Back odds'…
As you can see, the calculator tells us that our lay stake should be £8.48…
Place £1.00 on Dortmund @ 35.43 = Potential profit of £34.43

Lay £8.48 on Dortmund @ 4.20 = Potential liability of £27.13
Outcomes:
Let's have a look at our profit/loss for the two potential outcomes…
| Outcome | Bookie Cash | Bookie Bonus | Exchange | Profit/Loss |
| --- | --- | --- | --- | --- |
| Dortmund win | +£2.86 | +£31.57 | -£27.13 | £7.30 profit |
| Dortmund don't win | -£1.00 | | +£8.31 | £7.31 profit |
So, regardless of the outcome, we'll make a guaranteed profit of £7.30 on this EnergyBet Price Boost!
* Bayern Munich won the match 3-2, resulting in a profit of £7.31 on this EnergyBet offer. *
More reload offers
– Make £500+ per month
With detailed walkthroughs for all the best offers as they're released, you'll be bagging recurring profits in no time.
More reload offers